Professional mobile application development services for iPhone/iPad, Android, BlackBerry and Windows Mobile.
Calendar Tracker is the easiest and most versatile tool to track anything you want. Motivate yourself by tracking your progress in detail, setting a goal/target and seeing how close you are to achieve it. Unlike most apps that are based on a single calendar and categories, with Calendar Tracker you can create as many calendars as you like - an individual calendar for each thing you want to track. You can start with creating just one simple calendar and tap dates to mark an event with a check-mark. Calendar Tracker visually shows you the number of events and the dates.

Toggling between calendars is as easy as sliding your finger over the screen. Calendar Tracker shows individual calendar history and statistics for all calendars.

Need to track details? Simply turn detail tracking ON to track Time, Money, Distance Weight etc. Calendar Tracker shows you the total per month so you can easily know how you are doing.

Want to achieve a goal? Simply turn Target ON and enter a number. Calendar Tracker will show you a percentage of how close you are to your target and keep you motivated. There are countless ways to use Calendar Tracker! Track your workouts hours in detail, how much money per month are you spending at the coffee shop? Did you remembered to take your medicine every other day? Want to track how many miles you run and when? Quickly track your billable hours for your customers or projects, are you getting close to losing the weight you want? how many days you managed to go without smoking? How often are you practicing guitar or learning Spanish? The possibilities are endless!

Calendar Tracker is the ultimate tracking and motivational iPhone App. It is the easiest to use, most flexible and most powerful. Download the Lite version today to try it. You will not be disappointed.

Features:
Simple, intuitive user interface that anyone can figure out how to use in 10 seconds or less.Multiple Calendars, add as many as you need. Detail tracking. Track Time (hours, minutes, seconds), Distance (miles, kilometers, inches, cm), Weight (lbs, kgs),Money ($,€, # )Goals/Targets. Set a target for each calendar and track your progress as percentage Detail history of events Calendar statistics. Totally flexible, unlimited potential to track anything you want in any way you like.
Hire Dedicated Mobile Developers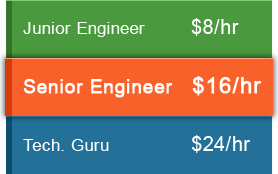 It's That Simple, Fast And Efficient!
Our engagement models are devices to ensure the
allocation of best mobile application developer for
every project
Innovation, vision, originality, and versatility!
Find out how KADA can offer you an edge to conquer
the immensely dynamic mobile space with cutting-edge
mobile applications.
Request Information
Please complete our request information form and our consulting epresentative shall get in touch ith you shortly.
KADA' engagement models are tailored to meet diversified needs of our global customers. Get an insight of our highly efficient and ROI-centric engagement models.
KADA's dedicated teams model offers clients' an easy and cost effective solution pertaining to deployment of myriad technical groups & resources.